Nexgard Vs Frontline Plus Vs K9 Advantix
Fleas and ticks create frustration among pets, being a pet-parent it can be worrisome to protect your pets from such parasites. And, when pet-parents want the best for their dog, it can still be confusing to choose the suitable fleas and tick treatment for pets. Well, the advancement of pet industries is making it easy by endorsing ample of products that are proven safe with rapid action and instant relief. Choosing any random product irrespective of the skin conditions of your dog can be quite menacing. Therefore, while choosing a flea and tick preventive it is important to consider the factors that could contribute to the decision if which is the suitable product for your furry pal.
Searching an appropriate product is a very daunting task! Thus, to reduce the inconvenience in the path of selection, it would be easier to choose products based on comparative studies. Here you can get wide range of products with their qualities. Nexgard, Frontline Plus and K9 Advantix are the three top most products for fleas and ticks. They are powerful deterrent property. Now, question arises which should be selected out of the three?
Let's make it simpler by making specific comparisons. Check below for further details.
Nexgard for dogs
Nexgard is the specially formulated oral treatment that kills fleas and ticks in dogs. It comes in a beef-flavored chewable that eliminates adult fleas even before they can lay eggs. The chewable treats and controls 3 types of ticks including Lone-star tick, American dog tick and deer tick infestations from dogs. Nexgard provides one-month protection from fleas and ticks and safeguards dogs from flea re-infestations.
Frontline Plus for dogs
Frontline Plus is a highly effective treatment that protects dogs against fleas and tick infestations. This monthly spot-on kills fleas within 12 hours and eliminates ticks within 48 hours of administration. The product effectively disrupts the flea lifecycle by killing flea eggs and larvae, thereby preventing the dog from future infestations. Frontline Plus Fleas & Ticks is also used as a powerful remedy for destroying chewing lice and acts as a treatment strategy for Flea Allergy Dermatitis (FAD).
K9 Advantix
K9 Advantix is a spot-on preventive that combats efficiently against multiple parasites including fleas and ticks. This pest control also protects the dogs from insects such as mosquitoes, stable flies, sand flies and chewing lice. The property that makes this flea preventive stand out from the others is that it not only kills the parasites, but also repels them. Thus, it safeguards the pet from parasitic re-infestation.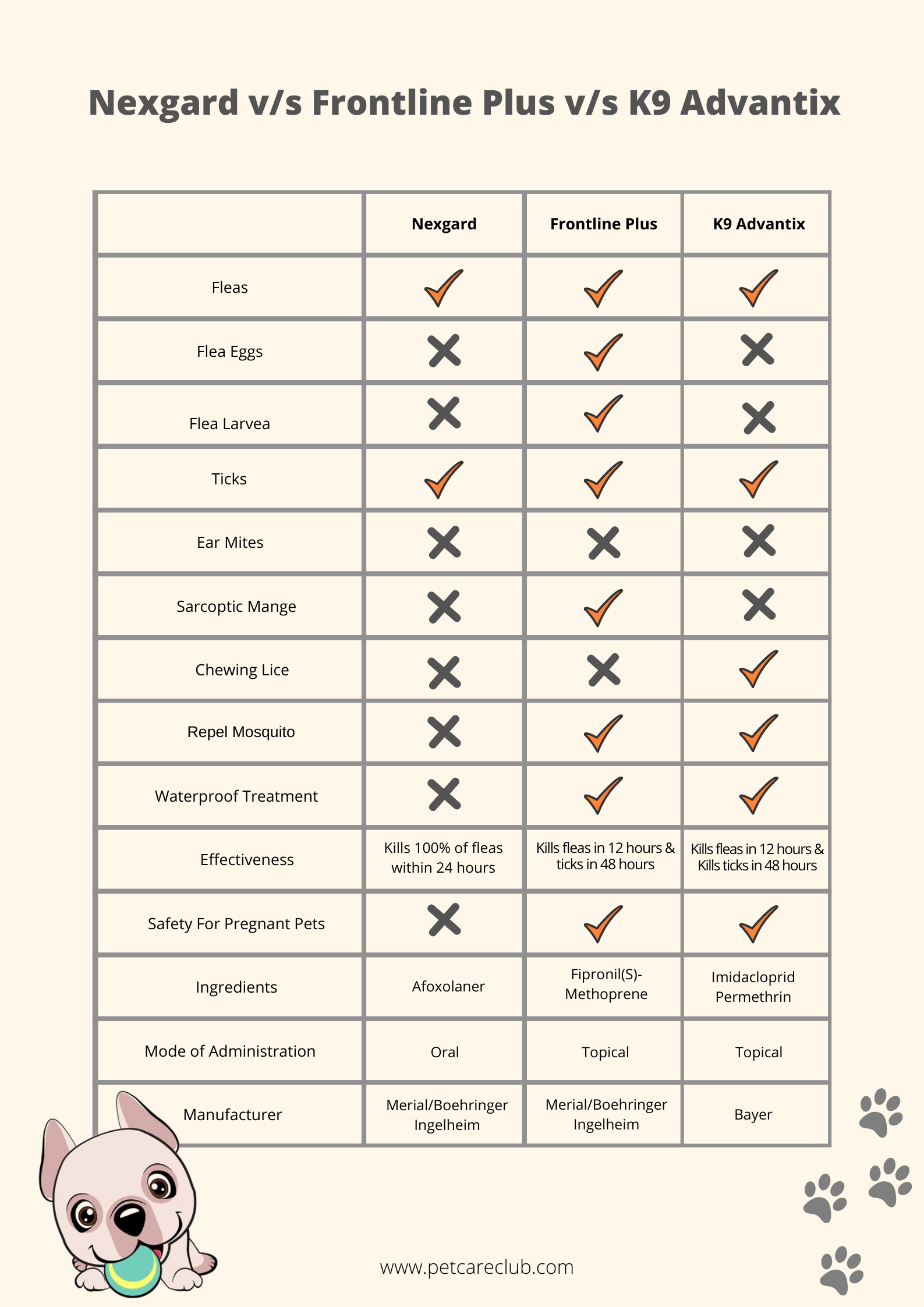 All three products have been tested and reviewed by many customers. Each product uses different active ingredients and has different strengths. However, it is important not to use any products on your pet before consulting your vet. I hope the comparison chart has helped you on your way to deciding which flea med is better for your pet.