Fleas and ticks are so persistent that no matter how many times you kick them out of your house, they are bound to make a comeback. Moreover, they not only infect your furry pal but also leave flea eggs all over your house. It is indeed a trying task to get rid of fleas and ticks. Though, if you're using preventatives all year round, you're less likely to face this issue.
Frontline is one such brand that has been consistently providing top quality treatments for dogs and cats. Being in the business for years, this company knows what its customers want and strive towards improving the efficacy of the treatments. Frontline Plus and Frontline Top Spot are two products that have distinctive similarities when it comes to effectiveness. Both products are equally beneficial for getting rid of flea and ticks, though one of them is slightly advanced, which we shall find out later in this article.
What Is Frontline Top Spot?
Frontline Top Spot is a potent flea and ticks preventative treatment that protects your dog from infestation and prevents tick-borne diseases. It eradicates existing fleas and also prevents further infestation. Moreover, it also controls sarcoptic mange. The active ingredient, Fipronil is an adulticide that causes paralysis in the nervous system of fleas and ticks and eventually kills them.
Let's look at the benefits of Frontline Top Spot –
Rapid fast action

Treats and prevents flea infestation

Controls Flea Allergy Dermatitis (FAD)

Eliminates ticks and chewing lice

Easy to apply and waterproof treatment

Safe to use to breeding, pregnant and lactating dogs
What is Frontline Plus?
Frontline Plus not only destroys the fleas but it also wipes off the entire flea population by eliminating flea eggs and larvae. Its active ingredients, Fipronil and (S) – Methoprene attacks the nervous system of the fleas and acts as an insect growth regulator respectively. Moreover, it kills 100% fleas within 12 hours of application and ticks within 48 hours of administration. Frontline plus is one of the most trusted and effective fleas and ticks preventative among pet parents. From its fast-acting properties to long-lasting effects, it beats all other flea treatments. Furthermore, administering this treatment will also protect your dog from tick-borne diseases like Lyme disease.
Below are the key benefits of Frontline Plus –
Kills fleas, ticks, and chewing lice

Eradicates the flea eggs and larvae

Easy to administer

Waterproof treatment

Obstructs the flea life cycle and prevents future infestation

Treats and controls Flea Allergy Dermatitis (FAD)

Protection from parasites for a full month
It can be difficult to pick out the differences from almost similar products, thus we have also provided a comparison chart of Frontline Top Spot and Frontline Plus.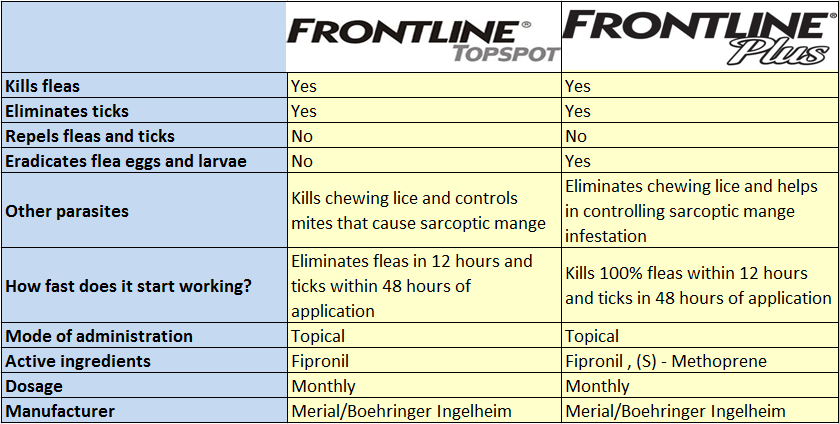 Both these treatments are equally effective in treating flea and tick infestation. Frontline Plus is an advanced version that eradicates flea eggs and larvae thus stopping the flea growth. As a pet parent, it's up to you to decide which treatment is required for your furry pal.
Though flea and ticks are not deadly, they do carry diseases like Lyme disease (transmitted via ticks) and Flea Allergy Dermatitis (caused by fleas) which are life-threatening for dogs. Therefore, make the right decision and get flea and tick preventative for your pooch to keep him safe from any kind of parasitic infestation.