Choosing the best flea and tick treatment for your dog isn't an easy task. Plus, you want to make sure you select the top-tier brand out of the many available on the market. Therefore, to break it down for you, we will compare and contrast two vet-recommended parasite preventatives for dogs - Simparica TRIO & Bravecto Chews.
Difference between Simparica TRIO & Bravecto
Both Simparica TRIO and Bravecto are powerful treatments for flea and tick prevention and both of them come in a tasty chewable form. However, there are many differences between the two. Let's compare these products to learn more about the major differences.
Target parasites
Both Simparica TRIO and Bravecto kill fleas and ticks including Black-legged ticks, American dog ticks, Brown dog ticks, and Lone star ticks.
However, Simparica TRIO is active against one more type of tick, the Gulf coast tick, and provides additional protection against heartworms, roundworms, and hookworms.
Key ingredients
Bravecto contains fluralaner as its sole key ingredient. Fluralaner is an ectoparasiticide that kills fleas and ticks as soon as they feed on your dog's blood, thus preventing flea and tick infestations.
On the other hand, Simparica TRIO contains sarolaner, moxidectin, and pyrantel as its active ingredients. Sarolaner and moxidectin hinder the neurotransmission of external parasites, whereas, pyrantel is a nematocide that kills worms.
Onset of action
Bravecto and Simparica TRIO both are developed with fast-acting formula. Bravecto starts killing fleas within just 2 hours of administration and reduces them by >98% within 12 hours; whereas, the latter is proven to kill 100% of fleas within just 24 hours of administration.
Dosage frequency
One Bravecto tablet offers 12 weeks of protection against fleas and ticks (black-legged tick, American dog tick, brown dog tick and Asian longhorned tick) and 8 weeks of protection against the Lone Star ticks.
Simparica TRIO is recommended to be dosed orally once a month regularly, as it remains active against fleas, ticks, heartworms and intestinal worms for 30 days.
Age/Weight recommendations
Bravecto chews have been demonstrated to be safe for dogs and puppies 6 months of age or older and weighing over 4.4 lbs.
Simparica TRIO is recommended for dogs and puppies 8 weeks of age and older and weighing 2.8 pounds or greater.
Available pack sizes
Bravecto is available in five different pack sizes varied by the size of your dog:
Bravecto for Toy Dogs 4.4 to 9.9 lbs (Yellow)
Bravecto for Small Dogs 9.9-22lbs (Orange)
Bravecto for Medium Dogs 22- 44 lbs (Green)
Bravecto for Large Dogs 44-88lbs (Blue)
Bravecto for Extra Large Dogs 88-123lbs (Pink)
Simparica TRIO is also available in five different pack sizes as mentioned below:
Simparica TRIO for Dogs 2.8-5.5 Lbs (Gold)
Simparica TRIO for Dogs 5.6-11 Lbs (Purple)
Simparica TRIO for Dogs 11.1-22 Lbs (Caramel)
Simparica TRIO for Dogs 22.1-44 Lbs (Teal)
Simparica TRIO for Dogs 44.1-88 Lbs (Green)
Simparica TRIO for Dogs 88.1-132 lbs (Brown)
Here is a comparison of Simparia TRIO and Bravecto in a nutshell: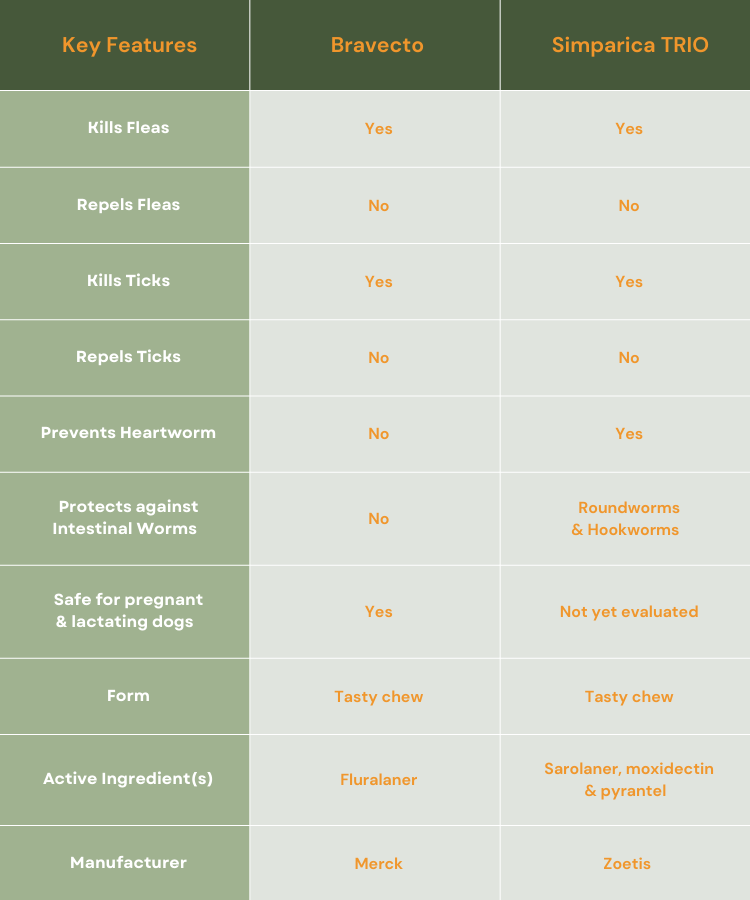 Which one is better - Simparica TRIO or Bravecto?
Both Simparica TRIO and Bravecto are popular options for parasite prevention in dogs. Both of them are highly effective and advantageous in different ways.
Bravecto lasts 12 weeks as opposed to Simparica TRIO's monthly dosage. Bravecto offers 12 weeks of continuous protection against fleas and ticks. Hence, if monthly administration is a stress, Bravecto is the product for you.
Simparica TRIO offers protection against 5 different types of ticks, compared to Bravecto's coverage of 4. Moreover, Simparica TRIO also offers additional protection against roundworms, hookworms, and deadly heartworms. Hence, for wider coverage, Simparica TRIO should be your choice of product.