Nexgard, Simparica, Or Credelio:
Which Is The Better Treatment?
Fleas and ticks are a common issue in almost every household that have dogs. And no matter how hard we try to protect our buddies from these pesky critters, they somehow manage to creep in and wreak havoc. But thanks to all the many treatments and preventatives out there that help a great deal in eliminating and preventing such pests from attacking our buddies. While there are several treatments available in the market, oral treatment seems to be the easiest to use and perhaps the most effective as well. But there are many good and effective oral flea and tick treatments in the market such as Nexgard, Simparica, and Credelio. Which one is the best? Well, read more to find out!
Nexgard For Dogs
Nexgard is an excellent beef flavored monthly chewable flea and tick treatment for dogs and puppies over the age of 8 weeks. Due to its palatability, it is very easy to administer. Moreover, these chews help in treating as many as 4 tick species – American dog tick, Black-legged tick, Brown dog tick, and lone star ticks. It also is effective at treating mites as well as prevents fatal tick-borne diseases.
Simparica For Dogs
Simparica is an exceptional and fast-acting oral flea and ticks treatment. It begins killing fleas and ticks within just a few hours and provides protection from same for at least a month. It kills ticks species including lone star ticks, deer ticks, brown dog ticks, and gulf coast ticks. Simparica eliminates adult fleas within just three fours and ticks within just eight hours. Moreover, it is suitable for dogs over six months of age or higher.
Credelio For Dogs
Credelio is an excellent flea and tick treatment for dogs and puppies over 8 weeks of age and weighing more than 4.4lbs. This monthly oral treatment helps in terminating fleas in just 12 hours and controls tick infestations including lone star ticks, American dog ticks, black-legged ticks, and brown dog ticks within just two days or so. Moreover, these chews are beef flavored and easy to feed dogs.
Nexgard vs Simparica vs Credelio
The below comparison will clearly help to distinguish and similarities and dissimilarities among the three oral treatments.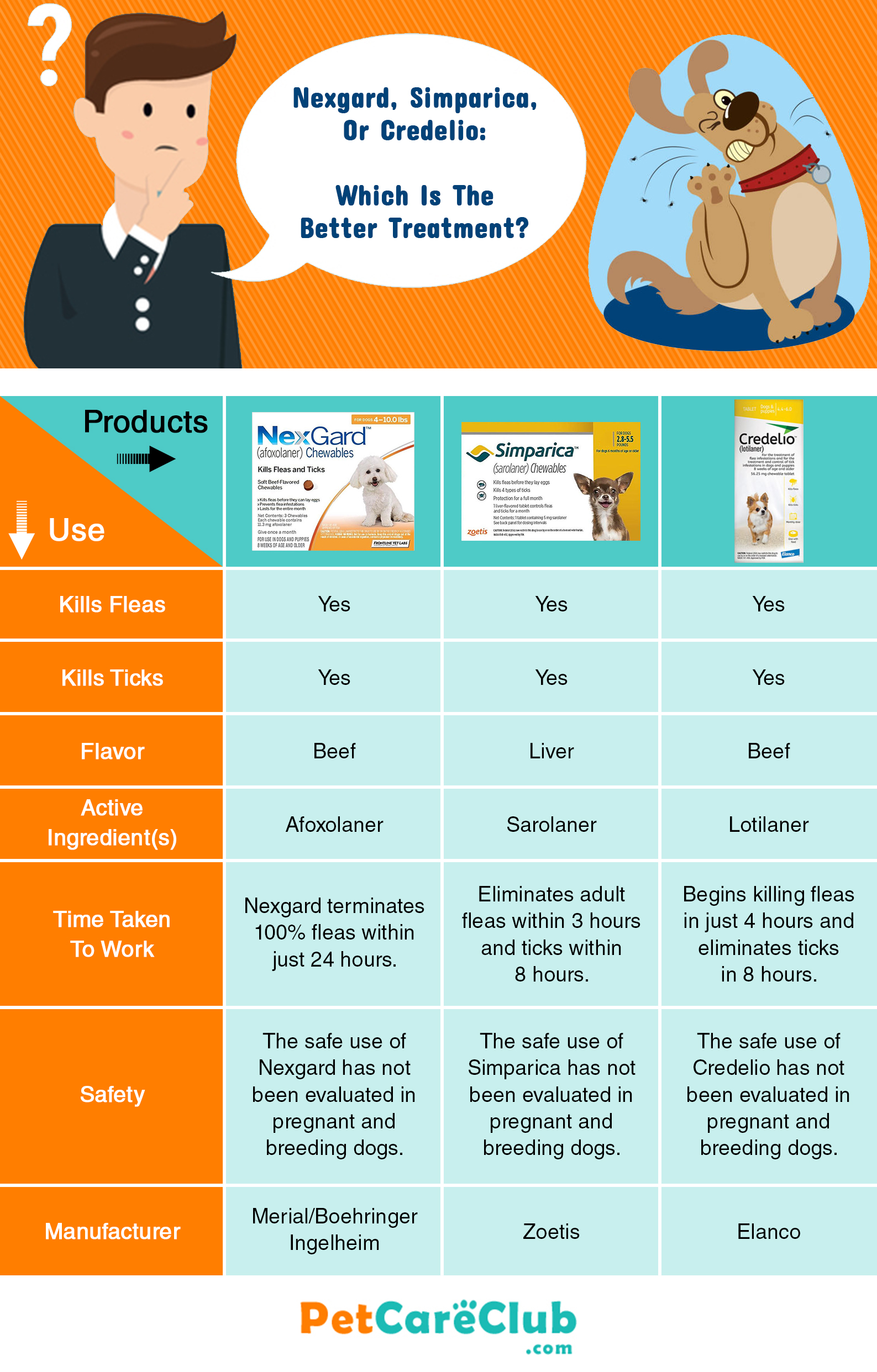 As you can see, all these three products are equally good and it all depends on your preference. Moreover, when you are in a conundrum, always seek the help of a vet in order to opt for the right treatment for your dog. Besides, you can get these treatments at the most affordable rates only on PetCareClub! Take care, and keep your pets safe too.